I grew up being a book-worm and reading pretty much all the time. Thanks to Helene Hanff, I also developed an Antiquarian Taste in Books.

Now I would like to write a Bibliography and possibly a new BIOGRAPHY about Helene Hanff. In reference to Helene's books I will be using the following codes. 84 CCR for 84 Charing Cross Road, UF for Underfoot in Show Business and QL for Q's Legacy.

For the record, I have not read Stephen Pastore's book - Helene Hanff A Life - which was published in 2010. It has rather a large number of negative reviews on Amazon.

Nor have I communicated in anyway with Ms Hanff. She died in 1997 and I did not get online until 1998. I never wrote her any letters either. Postage between my home country and the USA was horrendous.
As most of us know, Helene was the author of a rather well known book called 84 Charing Cross Road, which was first published in 1971. This book was made into a movie which came out in 1986. I saw the movie in 1987 and fell in love with Helene Hanff, her books and her wonderful sense of humour.

Helene was always very quiet about her personal life. While she never stated any specific reason for why she never married, there has been plenty of speculation (online at least) that she did have several relationships. But sadly none of these relationships are mentioned in any of her books - as far as I am aware. On the other hand, Helene has given us rather a lot of family details.
One of my major hobbies (other than reading) is GENEALOGY. I have been doing this for the last 30 years and more. Most of the family details for Helene Hanff that I have been able to dig up come from the US census records as well as other BDM records, which are PUBLIC records. A good number of them are online and available for free as well.

In 84 CCR, Helene mentions that she is Jewish, and that she had a Catholic sister in law, a Methodist sister in law and a whole raft of Presbyterian cousins thanks to her great uncle Abraham who converted. Now since Helene was never married and she had 2 sisters in law, this means she must have had at least 2 brothers. In QL she describes her childhood growing up in Philadelphia, Pennsylvania. This gives us a place to start digging.
Helene's Obituary from 1997 identifies her parents as Arthur and Miriam Hanff. And in QL, Helene mentions her Uncle Al also living with the Family. Uncle Al turns out to be Miriam Hanff's older half-brother Alfred Levy. They had the same father, Joseph Levy, but different mothers. Joseph Levy was married twice. Alfred was one of 4 children from the first marriage. Miriam was the only child from the second marriage.

Above is the 1900 census record showing Joseph Levy, his second wife Bella nee Strouse, his 3 sons from his first marriage and his daughter Miriam from this second marriage. Miriam was the mother of Helene Hanff.

I was very fortunate to find a loose connection between Helene's family and the Brotman and Dreyfus families, also of Philadelphia. It turns out that Joseph Levy's first wife, Fanny Weiler was descended from the Dreyfus family of Philadelphia. These two families have been researched quite thoroughly in the Brotman Family Blog, written by Amy Cohen who is also descended from the Dreyfus family. There were some brief mentions of Fanny Weiler's children, including the fact that Fanny's son Alfred was living with his younger half sister Mirian Hanff in the 1940 census. So I left a comment saying that Miriam and Arthur Hanff were the parents of the author Helene Hanff, and I thought she might want to know this, even if the Hanffs had NO BLOOD connection to Amy Cohen. She said that was "so cool" to know.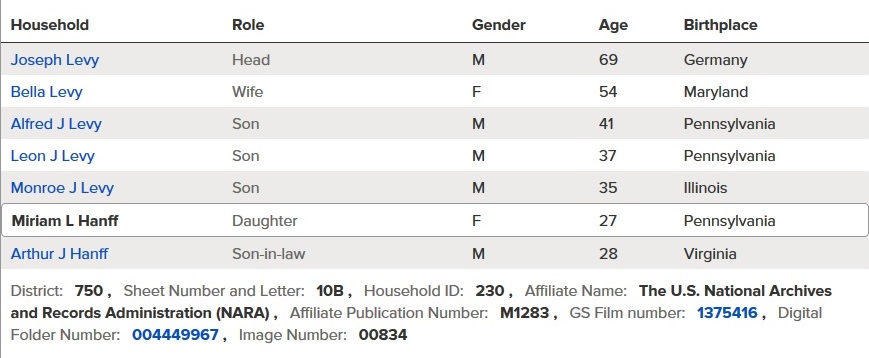 Miriam and Arthur Hanff were married in 1909 and in the 1910 census they were both living with Miriam's parents along with Miriams older half brothers Alfred, Leon and Monroe. See 1910 census record above. These three brothers all died with no descendants. They did have one older sister Bertha Levy. She married Jacob Gallert and is known to have at least one daughter named Fanny Gellert, named after her maternal grandmother Fanny Weiler Levy. By the 1920 census records, Arthur and Miriam Hanff were living in their own home with their 3 children - Arthur Jr, Edward Albert and Helene. Below is the 1930 census rcord showing Helene Hanff as a teenager.




I am still looking for Great Uncle Abraham!! I'd really like to find out where and how he fits into Helene's family.

Below is Helene's Family tree as much as I have done so far as of October 2015.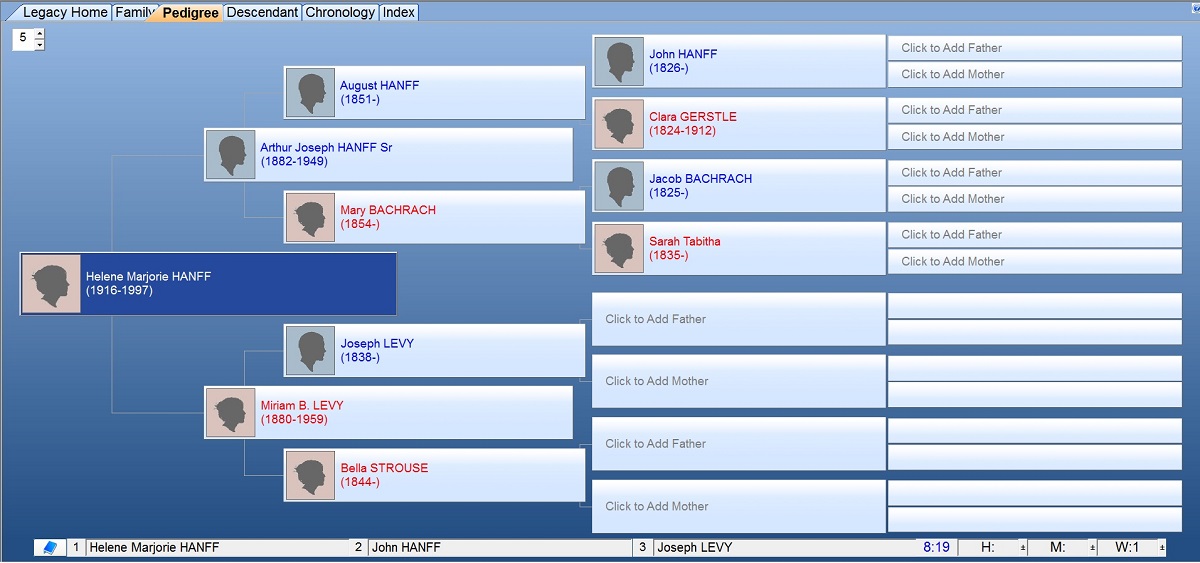 I'm not sure if I can take any of these lines further back, because most of them emigrated to the USA from Germany and I dont read or speak German. Bella Strouse claimed to have been born in Maryland but she is hard to pin down before she was married because she cannot be located in the 1860 or 1870 census records and also because there are NO records from the 1890 census. Those records were destroyed in a fire in the early 1920s before the details could be saved.